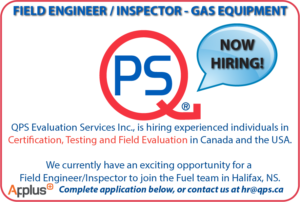 QPS Evaluation Services Inc. is a leading Canadian provider of third-party product approval services to a variety of customers and industries, locally and globally.
ABOUT THE POSITION: The candidate will be responsible for on-site inspection and evaluation of industrial fuel burning appliances and equipment used in oil & gas, mining, manufacturing, commercial HVAC and various other  industries. The inspection is performed to determine compliance with applicable Canadian gas safety standards and regulations including CSA B149.3, "Code for the field approval of fuel-burning appliances and equipment".
WHERE YOU'RE NEEDED: Only candidates from Nova Scotia, New Brunswick or  P.E.I or candidates willing to relocate to one of these provinces shall apply for this position.
ABOUT YOUR DUTIES: The Field Engineer/Inspector will be responsible for the following activities:
Work directly with the Technical Manager in charge of approval of fuel burning equipment and represent the company when performing field inspections.
Review requests for quotes from potential clients and recommend options to obtain approval.
Provide technical support to the company's Customer Service team to determine the project's scope, service deliverables, price estimates, and assist in quote preparation.
Review technical documentation including: P&ID, drawings, BOM, wiring diagrams, and operation/installation documents related to the equipment evaluation.
Prepare and issue a formal report to client describing the outcome of the review process and any actions required by the client to ensure compliance of the equipment involved.
Conduct engineering reviews of reports generated by other inspectors and provide constructive feedback for the purpose of improvement.
Where directed by Management, attend technical or industry association meetings and develop networking with regulators and current/future clients.
ABOUT YOUR SKILLSET: Bachelors degree in Engineering, preferably Mechanical Engineering or Electrical Engineering with 2 years experience in  fuel burning appliances and equipment.
Registration as a P.Eng. or E.I.T. with Canadian Engineering Associations.
Familiar with North American gas safety codes and standards including CSA B149 Series, UL, ANSI, NFPA.
Hands-on experience in process instrumentation and process control including Burner Management Systems (BMS) and PLC.
Experience in manufacturing and operations of boilers, ovens, heaters, evaporators, furnaces  and other fuel burning equipment.
Experience with Oil & Gas sites and safety requirements in those sites including applicable PPE. Safety training including HAZLOC and H2S trainings are considered advantages.
Strong written and oral communication skills and computer skills.
Proven ability to handle a number of projects simultaneously in an effective and efficient manner.
Ability to interact with clients in a positive manner and deal with situations that may involve conflict resolution.
ABOUT THE REWARD: We offer a very competitive salary and an excellent health benefits program.
ABOUT OUR RECRUITING PROCESS: QPS supports the Accessibility for Ontarians with Disabilities Act (AODA) and the Human Rights Code in our recruitment process. Upon request, any assessment and selection materials or processes used during the recruitment process will be available in a format accessible to applicants with disabilities.  If contacted for an interview, please advise our Human Resource Department if you require any disability-related accommodation.